How does it work when you use a travel agent?
If you have never used a travel agent or travel agency before, the first question is "How does it work when you use a travel agent?"


So here is our answer:
"We usually start with a discussion about what kind of trip you want to take. What kind of experience you want to have, etc. If you already have a hard budget and dates, that is great to know. Our job is to make sure you get the right honeymoon or wedding, at the right price, and without any unpleasant surprises. We are compensated by the resorts so our expertise does not cost you anything. We usually have better deals than you can find online. And we can match or beat any online price you might find. You can call or text us anytime.We have visited all the resorts we sell and have relationships with the hotel managers and onsite wedding coordinators.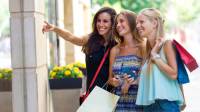 One of our favorite activities around Dallas!
Dallas Shop-Hop by Shop America
Our goal is to make sure that your honeymoon or destination wedding goes exactly as expected. We are here to help you if something ever goes wrong. This does not happen often, but when one of my clients has a problem, I will fight for them like my life depends on it. Atlantis Resorts has great Bahamas beach wedding options!
Group travel is a highly-specialized facet of this industry that requires vast experience and exceptional organization. At Vincent Vacations, travel agency in Dallas, we have done it all, and we've been doing it for years.
Travel Packages Dallas & Popular Beach Travel Destinations from Dallas
Jamaica is a hit. The birth place of reggae and Jamaica's most famous musician, Bob Marley! Rum and coffee tours, tour of Kingston and the Bob Marley Museum. Negril is the capital of casual and was made most famous by hippies in the 60s and 70s. This is a great spot to soak it all in with an active night life. Flying from Dallas through Miami into Norman Manley International Airport in Kingston. A plethora of reef-lined beaches, lush mountains and beautiful rain forests.




Turks and Caicos Islands / TCI - Straight from Dallas to your own guided fishing trip! Great fishing, scuba diving and snorkeling. Receive unlimited scuba diving at the Caribbean's best dive sites. Open water island fishing with blue marlin, haul in a wahoo to filet for dinner, and take in the tropical expanse of the Atlantic. Chance to catch marlin, wahoo, tuna, sailfish & mahi mahi. Open water scuba is excellent here, with a 14-mile barrier reef on Providenciales north shore - this is the most populated island in the TCI chain. More than 230 miles of white sand beaches.




St. Lucia - Home of the world's only drive-in volcano. See diverse flora and fauna in lush rainforest walks, canopy treetop zipline tours, and tours of coconut and banana plantations. Visit Marigot Bay, accessible only by boat. See the majestic twin peaks, the Pitons, as you tour the town Soufrière. St. Lucia is a top pick and some excellent all-inclusive resorts are found here. It is a volcanic island and has more mountain terrain than most other Caribbean islands. The two mountains, the Pitons, are the islands most famous landmark.




Great Exuma or Nassau, Bahamas - See the Pirates of Nassau through one of the best and interactive museums in the Bahamas. Tour Rose Island, a private uninhabited beach just 3 miles from Nassau. Take part in an unforgettable Scuba diving excursion, complete with shipwrecks and great marine life. Make sure and visit 'The George Town Fish Fry'! A huge local variety of food and menus can be found and there is nothing quite like it in The Bahamas or otherwise! Another must, the Bahamian Music and Heritage Festival.




Cancun - Explore the ruins of the Mayan city of Coba. Visit Tulum with its pristine and breathtaking beaches. Sail to Isla Mujeres and take part in a Caribbean Carnival. Take advantage of the fantastic deep sea sport fishing, Coco Bongo Show and Nightclub. In surrounding areas, you will find lots of archaeological sites and ruins to explore. Check out the Mexico City football club while you're there! Cancun is north of Riveria Maya, which is another splendid location.




Cabo / Los Cabos - Rated in the top 5 for Mexico tourist destinations. Whale-watching in the Pacific's blue waters, Private luxury yacht sunset tour, Desert and Beach guided horseback rides. Outback and camel safari, Todos Santos tour, La Paz City Baja tour, night scuba diving experience, Cabo Pulmo scuba diving, Great fishing, especially marlin - Cabo hosts the highest paying marlin tournament in the world! Rated one of the safest tourist destinations in the world.


Through our relationships with radio stations around the country, we have organized scores of travel promotions for groups of as many as 1,200 people to all parts of the globe, including Europe, the Caribbean, and the Far East.

For individuals and corporate clients, we are equipped to set up packages for any size group to any destination you choose. Contact us to find out what we can do for your group.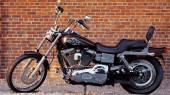 Like motorcycle tours? How about the Dallas Eagle Rider motorcycle rental and tour?


Getaways Or Fun Family Vacations
Caribbean Resorts & Vacation Packages For Weddings, Honeymoons, & Couples
All inclusive Caribbean vacation packages and resorts in St. Lucia, Jamaica, Antigua & the Bahamas

Indian Travel Agents with Destination Wedding Focus in Dallas

We have booked several Indian & South Asian Destination Weddings for large 200+ size groups. View our specialized
Indian Destination Weddings web site
. With our experience and expertise, we will work on the style and budget that meets your needs.
Vincent Vacations has a special relationship with
Palace Resorts for Indian Weddings
.
Several resorts we work with can feature specific:
Mandap/Wedding Stage Décor
Mehendi/Henna Artists
Fireworks
Assorted Tikkas
Indian Snacks
Samosas and Vegetable Kabobs
Colorful Marzipan of almond, walnut and saffron
Doodh & Coconut
Karanji
Chickpea Masala
and much more...
Travel Packages to Australia
Australia is the sixth-largest country in the world — and everything about this amazing continent is larger than life. Each of the country's six states is a destination unto itself. From the majestic Australian Alps to the Red Centre and the tropical Great Barrier Reef, let Vincent Vacations help you explore all this fascinating country has to offer.
Tours & Activities in Australia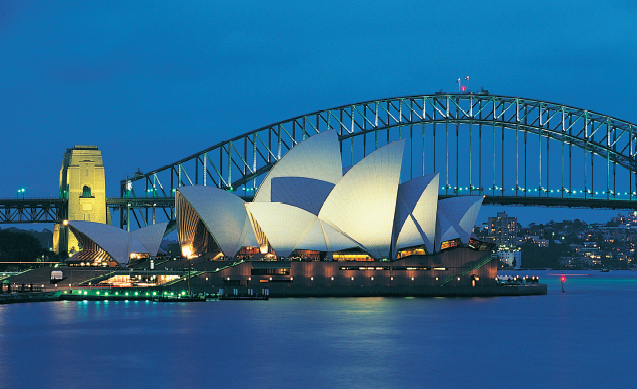 Australia: Discover the unmatched wilderness on Sydney's doorstep. Enjoy panoramic views of the magnificent Blue Mountains. Sample wines on a winery tour from Melbourne or embark on a diving and snorkeling cruise of the Great Barrier Reef from Cairns. The experiences are endless and the memories will last a lifetime.
Travel Packages to New Zealand
New Zealand is comprised of just two main islands: the North Island and the South Island. But those islands offer an endless array of natural wonders. From tropical beaches to lush rain forests, dramatic fiords, and snow-capped mountains, New Zealand will wow you with its pristine beauty. Wherever you go, you'll collect experiences that will last a lifetime.
Tours & Activities in New Zealand
New Zealand: Whether you seek exciting adventures or awe inspiring activities, you are sure to find just the right tours to enhance your vacation. From bridge climbs, heli-flights and cave explorations to eco-tours and city discoveries, the choices are limitless. Don't miss out on unparalled experiences in New Zealand.
Indian Ocean & United Arab Emirates
From deep blue waters to striking desert landscapes, this magical region dazzles the senses. Here, find the world's richest coral reefs, secluded islands, legendary architecture, and an enchanting culture. Maldives features pristine beaches, stunning seascapes, and all private island resorts. Seychelles offers amazing granite and coral islands, diverse flora and fauna, and world famous beaches. It is also home to the rare giant tortoise and the world's largest seed the coco-de-mer. Stop in Dubai for unrivaled luxurious pampering. Let Vincent Vacations and your Travel Advisor plan every detail and arrange an unforgettable vacation.
Republic of Maldives

26 atolls and 1,190 islands comprise the nation, with brilliant coral reefs encircling azure lagoons teeming with sea life.
Dubai
Rugged mountains and striking sand dunes contrast with glass buildings and traditional Arabian architecture.
Republic of Seychelles
The Seychelles' 115 granite and coral islands lie just south of the equator, off the eastern coast of Africa in the western Indian Ocean.
NORTH & SOUTH MALÉ
Powder-soft sand, perfect surf destinations, and dramatic sunsets are only the beginning. The North and South Malé atolls boast an amazing underwater landscape of coral reefs and caves, all bursting with a treasure trove of exotic marine life. In contrast, spectacular candy-colored skyscrapers fi ll the skyline of the capital city of Malé, where laid-back islander roots complement world-class amenities and luxurious service.
LOCAL FAVORITES IN NORTH & SOUTH MALÉ ATOLLS
Amazing Water Sports - There is no end to the many delightful activities you can fi nd to enjoy in a place that is more sea than land. Maldivians swim for recreation, play water polo with their friends at weekend picnics, and surf addictively. Their island lifestyle and the surrounding blue waters welcome visitors to join in. All resorts have wellequipped sports centers that provide a range of water activities and courses, from snorkeling among the vibrant coral reefs to catching the wind on a sailboard or cruising out on a catamaran. For those seeking more energetic play, other popular adventures include parasailing, kayaking, kiteboarding, water-skiing, and jet-skiing.
UNPARALLELED DIVING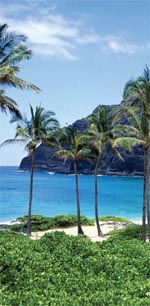 More than a thousand species of sea life inhabit the Maldivian waters. Over 3,000 coral reefs, and the free-fl owing tides of the monsoons, have created one of the world's richest areas for superb diving. The warm waters offer amazing visibility and are clear enough so you can see passing fi sh as far as 55 yards away. All resorts have high-standard, well-monitored diving facilities, so even the most inexperienced diver can enjoy sighting everything from tiny shrimp and tropical fi sh to magnifi cent manta rays and sharks. These unforgettable dive experiences take place along the reefs, on a channel where the atoll meets the ocean, or on a submerged shipwreck.
PERFECT SURFING
Maldives is a revered mecca for surf enthusiasts from all over the world. Few destinations anywhere can match the idyllic surfi ng here, with the southwest monsoon bringing consistent waves and massive swells, especially from June to September. The North and South Malé atolls boast several well-known breaks, and resorts near these breaks are perfect for surfi ng afi cionados. Many resorts offer charters or surf taxis that will whisk adventurers to the outer breaks for a greater variety of waves. Get the full Maldivian experience, from blissful white-sand beaches to magnifi cent turquoise waters, while riding the waves to your heart's content.
BAA, NOONU, & NORTH ARI
In the rich waters and extensive reefs of the Baa Atoll, a UNESCO World Biosphere Reserve, abundant corals, tidal areas, mangroves, and vegetation host a wide diversity of vibrant animal life. The Noonu and North Ari atolls offer dreamy powder-white beaches, stunning surroundings, crystal-clear waters, and some of the Maldives' best sites for divers to view a rich variety of exotic marine life.
Dhoni Boats
Traveling between the 1,190 Maldivian islands aboard a dhoni boat is like taking a step back in time. A dhoni (pronounced "do-nee") is a skillfully crafted art form in itself — a sailboat with a motor or lateen sails, resembling a traditional Arab sailing vessel. The time-honored dhoni is one of the oldest known vessels in the Maldives.
Begin Your Travel Experience With Us!
With a seasoned travel agent ready to assist you, the natural wonders and distinct culture of traveling abroad are yours to discover! Explore colonial cities, ancient ruins, hidden cenotes, and architectural treasures, and create a new experience every time you visit. In the Yucatan Peninsula in Mexico, discover a fascinating blend of sun, culture, and archaeological ruins, and astounding beauty. In Central Mexico, discover charming UNESCO World Heritage colonial cities. The diversities are fascinating. From golden sand beaches and jungle forests of the Pacific Coast to the Land's End and endless horizons in the Sea of Cortes. We can help you arrange a vacation you will not soon forget.
Unspoiled, unhurried and uncrowded. Fiji is the land of happiness in the heart of the South Pacific, blessed with over 300 tropical islands. Here you'll find classic images of an island paradise - turquoise lagoons, sun-drenched beaches and swaying palm trees.
But it's the people that make the islands so special and the hospitality is warm and welcoming. Take time to mingle with the locals and relax. You will enjoy their genuine nature. Experience the true Bahamas. From its pristine naturan beauty to a host of water and land sports. We can help you plan an unforgettable vacation, whether you are seeking a romantic escape or an activity-filled stay. Everyday you'll find something new to discover.
The Caribbean and Bermuda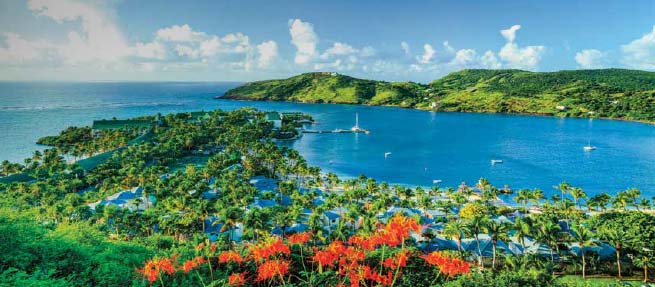 Like sparking jewels in crystal-clear waters, the islands of the Caribbean and Bermuda beckon travelers to discover the natural beauty and unique culture each one has to offer. Explore World Heritage sites, spectacular beaches, tropical rainforests, and more. The Caribbean and Bermuda is where all the senses come to life. See the beauty of the natural landscapes. Hear the rhythm of Caribbean music. Smell the fragrances of tropical flowers, and taste the diversity of the Caribbean cuisine. Whether you seek an adventure-filled vacation or a leisure stay soaking in the local culture, a memorable vacation awaits. Let us make it easy and help you arrange your perfect experience on the island or islands of your choice.
The Moorings Luxury Crewed Yacht Vacations
Explore the Caribbean islands onboard a private crewed catamaran, for up to 10 of your closest friends or family in five cabins. Relax as your captain navigate over turquoise waters from one exotic port to the next, while your chef prepares delectable meals to enjoy onboard or on a secluded beach.
Five Exciting Destinations
British Virgin Islands
Grenada
Saint Lucia
St. Martin & St. Maarten
St. Thomas, USVI
Your journey embarks from one of five Moorings' bases, on a luxury crewed catamaran, like a fabulous floating resort, with a dedicated crew providing the utmost in personalized service onboard. At each tranquil anchorage, you will have the chance to explore the culture, shop in charming boutiques, sample local delicacies, or stroll on a white-sand beach of a new island. Each day is a new discovery of experiences you won't soon forget.
REPUBLIC OF MALDIVES & REPUBLIC OF SEYCHELLES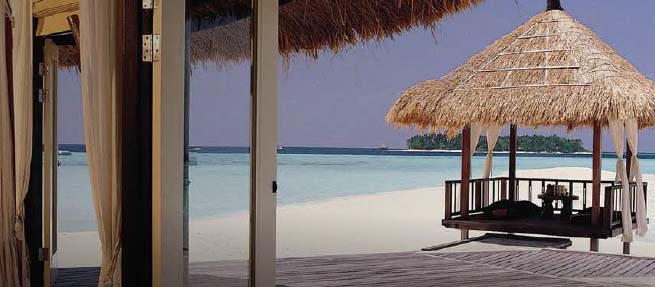 From stunning seascapes to rare wildlife and granite and coral islands, your experience in the Maldives or Seychelles will be as unforgettable as these worlds-away locations in the Indian Ocean.
Comprising 26 atolls and 1,190 islands dating back 2,500 years, the Republic of Maldives is a serene masterpiece in natural landscaping and home to one of the world's most diverse underwater marine life. Its capital, Malé, is easily reached by ferry from the main airport.
The Republic of Seychelles is a 115-island archipelago of legendary and unspoiled beauty, between 4º and 10º south of the equator. The inner islands cluster around the islands of Mahé, Praslin, and La Digue, and are renowned for their granite formations and stunning beaches.
Cruise In The Maldives - Four Seasons Explorer Cruise
A Day Aboard The Four Seasons Explorer
Morning - Prepare for a two-tank dive, exploring a vibrant thila (submerged reef) and an overhang full of soft corals. Nondivers can snorkel or relax on board.
Afternoon - Set anchor at a virgin island. Divers can explore the open waters on a channel dive; nondivers can water-ski or tube in the lagoon. Later, enjoy a relaxing massage on the beach.
Evening - Take a fishing trip aboard a local dhoni boat and enjoy sunset at sea with cocktails. Set anchor and savor a BBQ dinner on a beautiful sandbank. See video highlights of the day with after-dinner drinks in the lounge.
Cruises and Inclusions -
All cruise packages aboard Four Seasons Explorer include:
• Seaplane and speedboat transfers
• Diving and recreational activities
• Full-board meals, bottled water, and nonalcoholic
beverages for up to two • Fresh fruit in your stateroom upon arrival
• Luxurious accommodations onboard

Northward Cruise: Three Nights -
Sail from Four Seasons Resort Maldives at Kuda Huraa to Four Seasons Resort Maldives at Landaa Giraavaru via the Malé and Baa atolls.
Southward Cruise: Four Nights -
Discover four secluded atolls between Four Seasons Resort Maldives at Landaa Giraavaru and Four Seasons Resort Maldives at Kuda Huraa.
Circuit Cruise: Seven Nights -
Visit five atolls on the ultimate dive cruise.