23 Great Excursions & Tour Package Options for Costa Rica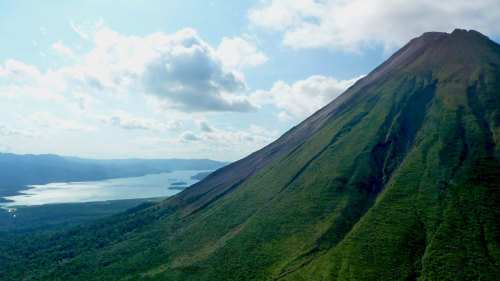 Costa Rica is like no place in the world. From almost every vantage point, rainforest vistas tumble into picture-perfect inlets and coves that punctuate the shoreline.

With activities including canopy zip-lining, kayaking through mangrove estuaries, catamaran cruises, rafting, horseback riding, sea kayaking, hiking, birding AND local wildlife featuring monkeys, tropical birds, iguanas and sloths, there is no place like Costa Rica.

Please contact us for more ideas and to book your travel to Costa Rica today!

The Monteverde Cloud Forest is the epicenter of cloud forest exploration and the pride and joy of ecotourism in Costa Rica. With over 400 unique bird species, Monteverde is an especially treasured destination for birding.

Monteverde Cloud Forest Reserve Hike
Transfer to the Monteverde Cloud Forest Reserve for a hike through the high elevation forest with professional naturalist guides! Trek through the misty forests' dense vegetation and majestic trees. You will see giant prehistoric tree ferns, trees covered with blooming bromeliads, and many of the species of birds that call Monteverde home. Keep an eye out for the shy Resplendent Quetzal bird!

Monteverde Sky Tram & Trek Zipline Tour
The tour starts with the Sky Tram, a ride on the cableway up to the platform where the Trek zip line adventure begins. This is one of the most extensive canopy tours in the country, with 2 very long cables and 11 cross-sectional zip lines. After zipping through the treetops, you will have time to unwind and enjoy the panoramic views from 2 observation decks. **Height and weight restrictions apply. Inquire for details.

Central Pacific Coast of Costa Rica
Jacó and the surrounding Central Pacific Coast of Costa Rica is peppered with spectacular national parks and beaches, offering a breadth of coastal experiences and wildlife viewing opportunities. A mountainous shoreline with strips of sandy beaches overlooking a sparkling expanse of blue are characteristics of the Central Pacific coast. The region is home to the popular surf town of Jacó, Playa Herradura, Carara Biological Reserve, and the Tarcoles River.

Tortuga Island Catamaran Cruise
Early this morning you will transfer by ground to Puntarenas. Enjoy a snack-type breakfast en route before boarding a catamaran for a cruise through the Gulf of Nicoya to Tortuga Island. Just 12 nautical miles from Puntarenas, Isla Tortuga is a sanctuary of white sand beaches and turquoise waters, home tropical birds, and flora typical of the Costa Rican Central Pacific area. Spend the day swimming, snorkeling, or just relaxing under the shade of palm trees on this beautiful island. A tropical lunch will be served on the island.

Horseback Riding with Ocean Views & Waterfalls
After your equipment and safety instructions, depart on your horseback journey to the waterfalls. Along the way you will see farms and get a closer look at nature as you ascend through the rainforest. You may be able to spot toucans, Scarlet Macaws, and White-faced capuchin monkeys. Upon arrival to the swimming area, your guide will set you up with fresh fruit and water, and you will have time to relax and enjoy the waterfalls.

Costa Rica's south Caribbean coast
Costa Rica's south Caribbean coast is lined with perfectly imperfect beaches swaying palm trees. The clear, turquoise water welcomes swimmers, sunbathers, surfers, and snorkelers. This off the beaten path area managed to fly under the radar of Costa Rica's tourism boom. It continues to remain a pristine beach and rainforest destination with a unique, Caribbean culture of its own.

Snorkel & Hike Cahuita National Park
Cahuita National Park is a nature lover's playground full of land and sea adventures. Start your adventure at the beach, climbing on board the boat for a ride out to the local coral reef. You will then have roughly 2 hours in two different parts of the national park to snorkel in the ocean, depending on the weather. After, fuel up with tropical fruit on the beach before heading out on a hike through the coastal rainforest. Since the park is home to an abundance of diverse wildlife, chances are good that you'll spot monkeys, tropical birds, sloths, iguanas, poisonous dart frogs, and other interesting creatures.

Jaguar Rescue Center, Bri Bri Chocolate Tour, & Waterfall Hike
Start with an educational visit to the Jaguar Animal Rescue Center, which serves as a refuge and rehabilitation center for many local animals, including wild cats, monkeys, snakes, and sloths. Then, witness organic chocolate made from scratch by a member of the Bri Bri indigenous tribe— from plant to plate! The Bri Bri have a long history of chocolate production in the Puerto Viejo area. Finally, head about 30 minutes outside of town to a breathtaking Puerto Viejo Waterfall for a hike and refreshing swim.

Pacuare River Whitewater Rafting: Class III-IV
You'll depart your Puerto Viejo hotel early in the morning for a drive to the Rios Tropicales Operations Center. Here you will enjoy a Costa Rican breakfast before heading to the put-in on the banks of the Pacuare River. Here, your guides will give you rafting & safety instructions. Then, you'll begin to paddle 14 miles deep into the heart of one the primary rainforest. As you master the river's wild rapids, you'll pass through densely vegetated rainforest gorges and pristine waterfalls. After this adrenalinepacked adventure, you'll return to the operations center to change and have lunch. Return to your hotel late in the afternoon.

Costa Ballena
The stretch of South Pacific Costa Rica coastline from Dominical to Ojochal, known as the Costa Ballena, is Costa Rica's up-and-coming beach and rainforest destination. The South Pacific Coast is more remote than other areas of the country, sitting just north of the Osa Peninsula. Pristine rainforest, miles of ocean views, and solitude are some of the South Pacific's most magnificent features.

Marino Ballena National Park Sea Kayak & Snorkel
This tour begins at low tide as the waves shift to one side of the Whale's Tail, which is a good spot for snorkeling. Paddling to this point will take between 30 to 45 minutes. The snorkeling portion of the tour will take between 45 minutes and 1.5 hours and will give you the opportunity to see a variety of fish and coral species, such as Giant Conch, starfish, Parrotfish Snapper, Damsels, eels, Moorish Idol, Surgeons and various types of coral species. Catch a wave and ride back into shore on your kayak. Then, enter a small mangrove forest in Ballena Marine Park where it is possible to spot sea birds, toucans, and some small reptiles.

Whale & Dolphin Combo Tour (seasonal)
Board a boat from Punta Uvita Beach and visit the famous Punta Uvita Whale's Tail, Ballena Island, Tres Hermanas Islets, and Ventana Sea Caves. During the tour, you will search for Humpback Whales (seasonally) and two different species of resident dolphins. The boat will pass near the caverns of Ventanas Beach where you can observe wonderful rocky formations and the amazing caverns that were carved out by the ocean over thousands of years. **Tours during the dry season (January – Feb) include a short session of snorkeling on the reefs of the Marino Ballena National Park

Half-Day Sportfishing
Put your sport fishing skills to the test on this half day tour. The waters off the Osa Peninsula on the South Pacific coast of Costa Rica are rich in nutrients, and there is a great variety of fish such as mackerel, roosterfish, snapper, and tuna. The inshore fishing is done within a few miles off the shores of Bahia Ballena.

Manuel Antonio
Located on the Central Pacific coast of Costa Rica, Manuel Antonio remains one of the country's best beach and rainforest locations. Manuel Antonio National Park is the main attraction of the region, with monkeys, tropical birds, and iguanas comprising a large portion of the wildlife population. From almost every vantage point, rainforest vistas tumble into picture-perfect inlets and coves that punctuate the shoreline.

Damas Island Estuary Boat Tour
Explore one of Costa Rica's most unique environments from the comfort of a boat! As you glide through the Damas Island Mangrove Estuary, you might spot curious families of monkeys as they migrate across the mangrove ecosystem in search of food and adventure. You might also see tropical seabirds, turtles, a range of reptiles, and maybe even a caiman or two! You will wind through acres of pristine Costa Rican estuary as guides explain why the mangrove eco-structure so vital to Costa Rica and the world. This tour will end with a relaxing yet rewarding meal.

Damas Island Mangrove by Kayak
Paddle gently through the inland waterways of the Damas Island Estuary, one of the most unique eco-systems on the planet. This important ecological area is where the salt waters of the ocean meet the fresh waters of tropical rivers, creating a periodically submerged forest of hanging roots. On the banks, you might spot local inhabitants, like the Sally light foot crab, boa constrictors, silky anteaters, monkeys, lizards, seabirds, and sometimes even crocodiles!

Coastal Sea Kayaking
Paddle your way around the Manuel Antonio coastline on this active kayaking tour. Beginning at the port of Quepos, you will start your adventure by paddling south. From a vantage point only possible in kayaks, you'll catch awe-inspiring glimpses of Manuel Antonio's breathtaking cliffs as we follow along the coastline. Depending on the tide, you may stop off for a snack at a secluded beach. Then, paddle close to tropical rock formations, where shorebirds are known to nest. This fun half-day on the water is a great way to explore the area and get moving!

Rainmaker Reserve Hike
Located about 30 minutes from Manuel Antonio, this private rainforest reserve is a great place to experience local wildlife, like birds, butterflies, frogs, and lizards. Explore the Rainmaker trails with your guide, who will teach you about the history and biodiversity of the reserve and its inhabitants. After this, you'll have a chance to navigate the canopy bridge system and experience the rainforest from an elevated perspective.

Nocturnal Jungle Walk
This unique guided adventure is 2 hours to be a part of one of the most fascinating ecosystems in the country – the nocturnal tropical wet forest. Get in contact with many of the nocturnal inhabitants of the Wildlife Refuge, such as the kinkajou, the
armadillo, or various snakes! With more than 30 identified snake
species, you'll learn about which are dangerous and about their
natural history. You'll also have the chance to visit the Tropical
Aquatic Gardens, which is home to a variety of frog and toad
species.

Local Flavors Cooking Class
Learn how to prepare classic Costa Rican dishes on this local
food adventure! First, you'll head to a farmers' market in nearby
Quepos to find the best ingredients for your dishes. Then, visit a
nearby ranch to meet the culinary team and search the organic
garden for some final ingredients. Finally, begin preparing your
Costa Rican staples, following local recipes. You'll cover
everything from tortillas to "picadillo" (minced meat and veggies
with spices).

Lia Vincent
23 Great Excursions & Tour Package Options for Costa Rica
OKC Travel Agent Near Me
Share :

I have been in the travel industry since 2002. I manage our store front travel agencies and locations for All Inclusive Weddings - Destination Weddings & Honeymoons , Vincent Magical Vacations - Disney , Vincent Events - Groups & Corporate Incentive Trips , & Vincent Vacations ! I also manage our large group of independent travel agents, who work from home.  I LOVE helping couples with their Destination Weddings! I planned my own wedding in Puerto Vallarta, Mexico in 2010 and it's been a passion ever since. My husband and I also have renewed our vows in Turks and Caicos which is a favorit... Read More >>>

An expert destination wedding travel agent near me with five star luxury travel packages with a luxury travel company, Vincent Vacations.