Virgin Voyages: Scarlet Lady
Want the latest travel news, deals and more? Sign-up for my newsletter!
---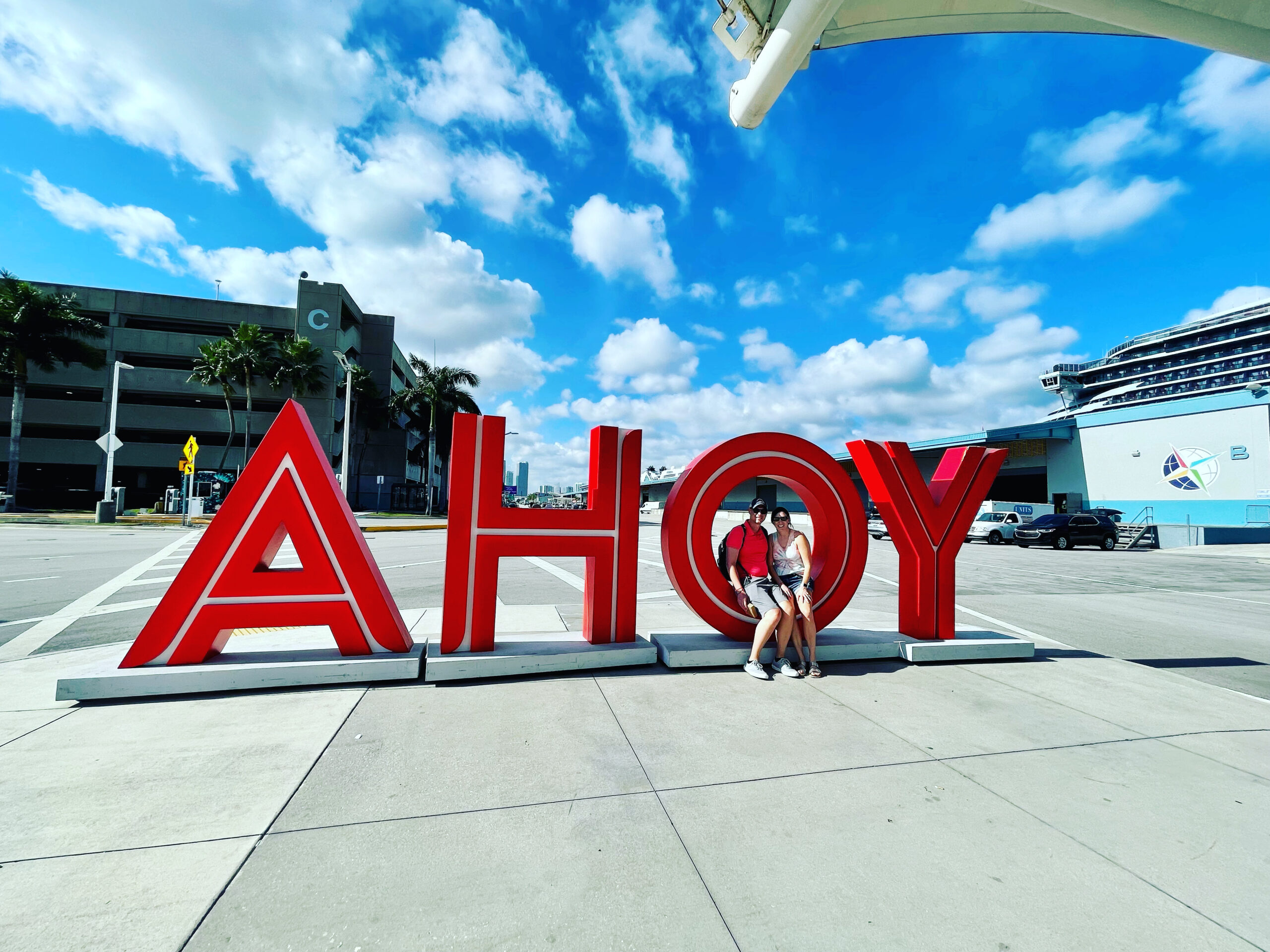 Virgin Voyages: Scarlet Lady
In December 2021, I had the privilege of  going on the adult only, brand new Virgin Voyage ship, Scarlet Lady. I absolutely loved this experience and am thrilled to have experienced it first hand so I can share the details with you, my clients.
Our five night cruise went in and out of Miami with stops in Costa Maya, Mexico and the beach club on Bimini island in the Bahamas. The room category we selected was the Sea Terrace room with a balcony.  I loved the design aesthetic of the room with everything being sleek and modern. It has a minimal feel but does not lack in any way.  Some of my favorite features of our cabin were the hammock on the balcony, the media tablet which controls the lights, the curtains and the entertainment options, and many storage options.
What Sets This Cruise Line Apart?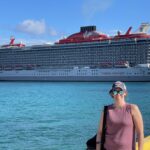 You might wonder what sets this cruise line apart? There are several things with the main being  that it is adults only. It is a sophisticated and stress free way to cruise. It also includes many things that other cruise lines charge you extra for.... wifi, tips, basic beverages including soda, group exercise classes and specialty dining.
Speaking of dining, the food is absolutely incredible! Instead of your traditional dining room set up on most other cruises, you have access to six unique dining experiences each specializing in a different type of food. We were able to experience all of them except one and I am still dreaming of what we ate! It is the best food I have ever had on a cruise!  Not only is the food so, so good, the ambience of each restaurant makes each meal feel like a special occasion dining experience.  Here is an overview of each restaurant.
Restaurant Overview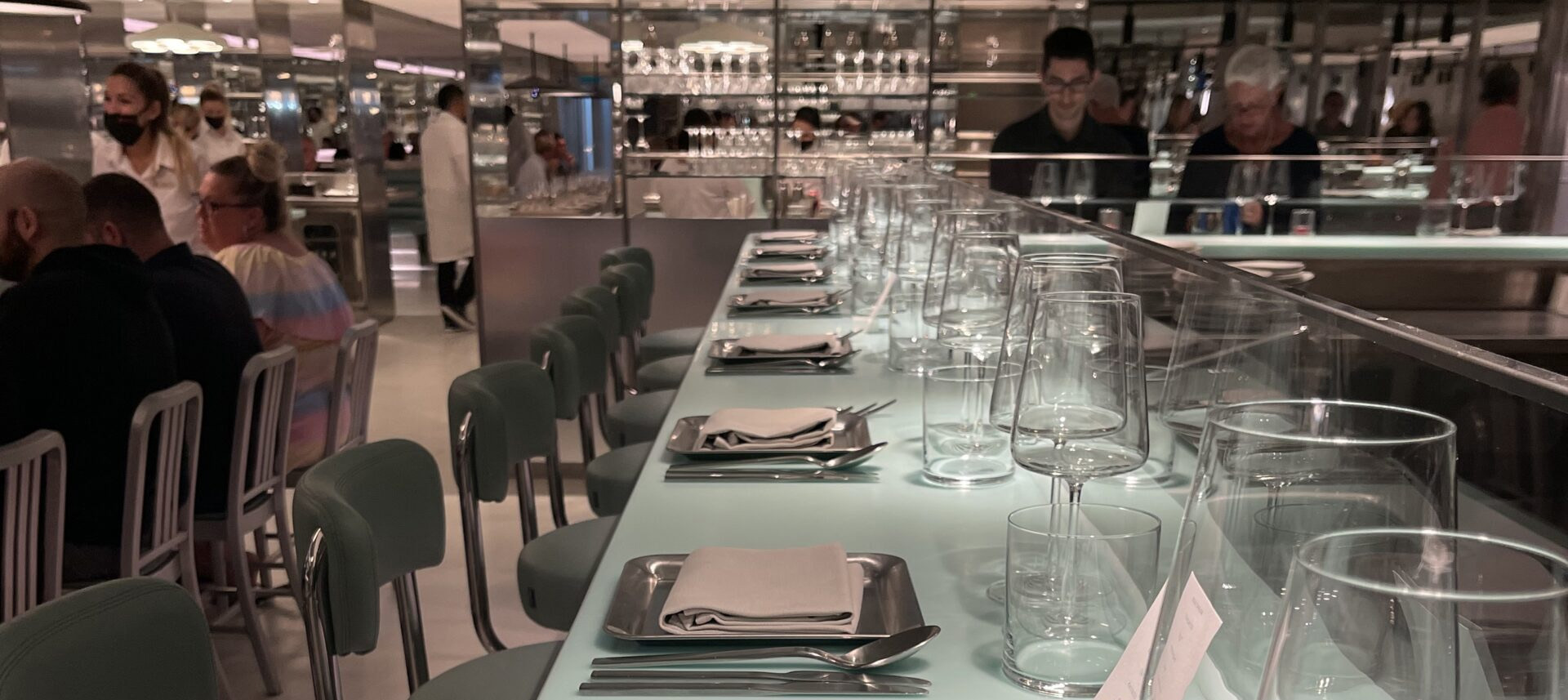 The Wake- a high end steakhouse with unbelievable views at the back of the ship.


Pink Agave- elevated mexican food in a beautiful setting.


Razzle Dazzle- a veggie forward with some of the best gazpacho I have ever had!


The Test Kitchen- wow! This was a truly unique experience, part lab, part cooking school, this set menu will leave you in awe!


Gunbae- Korean bbq with an emphasis on social engagement. This is the only one we didn't get to try and will be at the top of my list next time we sail.


Extra Virgin- Italian with a twist! I had the crispy artichoke antipasto and the steak. This was one of the best meals I have ever had!


My Favorite Stop
My favorite stop was Bimini because we got to spend the whole day at the private Bimini Beach Club. It was an easy tram ride from the ship to the club. The club is just fabulous with the prettiest beach, two large pools, amazing food and a super fun vibe. I loved it so much and consider it one of my favorite vacation days. We walked up and down the beach several times and came home with several large conch shells.  The bond fire lighting ceremony, complete with live music, is the perfect way to end the day.
Ship Entertainment 
The entertainment on the ship is a lot different than traditional cruises. There are no Broadway style shows as they focus more on immersive, unique entertainment options. The Duel Reality was our favorite show as it was a fast paced retelling of Romeo and Juliet with an acrobatic twist. The performers were incredibly talented and that show is one I won't soon forget.  I will say, the entertainment was not my favorite but that was ok since everything else surpassed my expectations.
Overall, we loved this cruise! I would love to help you book your own experience on this beautiful ship!
---