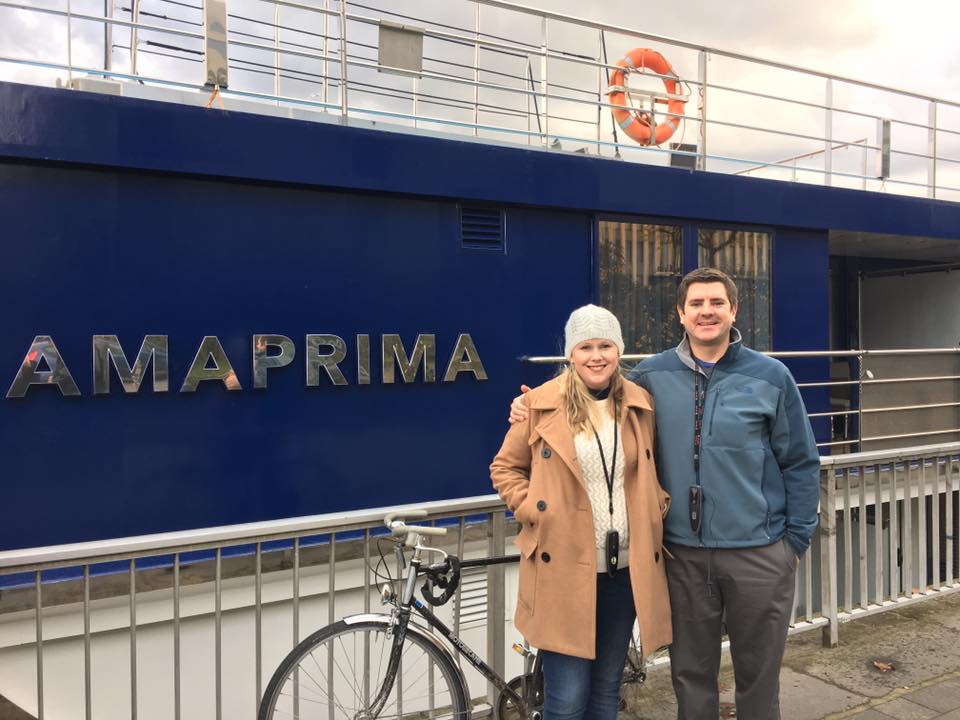 Owner, Lia Vincent, on a 7-night Rhine river cruise.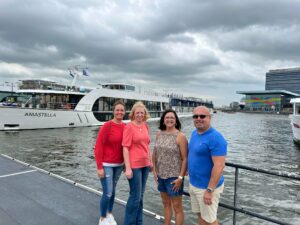 River cruise agent, Laura Brown, specializes in AmaWaterways. Check out her blog about her recent Holland and Belgium river cruise.
Quick Links: AmaWaterways Travel Agents, AmaWaterways Reviews, AmaWaterways vs Viking
Oceans take you to countries; rivers take you through them. River cruising is without a doubt, the most relaxing way to travel. Unpack your bags once, and experience and take it all in. Sail between grand capitals and charming villages as your intimate ship docks in the heart of destinations often unreachable by ocean liners.
"Ama shattered all of our misconceptions about river cruising. We loved our spacious stateroom, the dining options and the delicious food. There was so much to do every day; I never even cracked open the book I brought to read."
- Becky T.
Contact Us to Book Today!
Why River Cruise with AmaWaterways?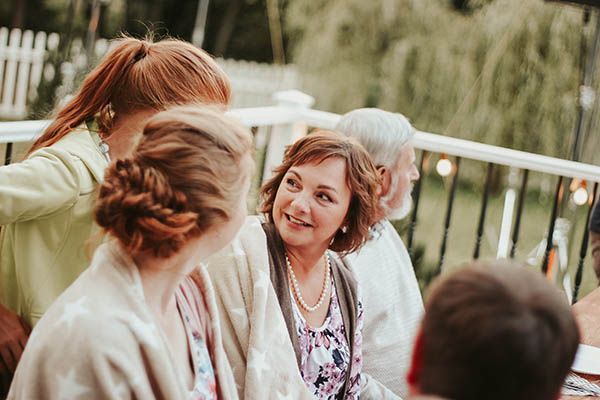 Client, Deb Hutchison, 7-night Danube AmaWaterways River Cruise -We experienced high class dining, exceptional pampering from the superb staff, and wonderful land excursions. Ama has something for people of all abilities!!
Your sailing is a journey of a lifetime! Step right off and explore. There is no waiting in lines to disembark, so you can maximize your time. "Ama" means love – and AMAWaterways put love in everything they do, ensuring you have a remarkable experience from every step of your journey on river and land – and even after you've returned home. Attentive and professional, AMA's crew brings passion into their journey every day. It spills forth from every bottle they uncork, every plate they serve and every smile they share as they go above and beyond to ensure you always have a memorable experience.
We're proud to partner with such a prestigious river cruise company!
"From the beginning, our goal was to create a river cruise company that we ourselves would enjoy. To us, that meant the highest-quality, locally sourced food and wine; elegantly appointed ships with staterooms offering maximum views to enjoy the ever-changing countryside; and a crew who goes above and beyond, treating every guest like they are part of OUR family."

- AMA Waterways
---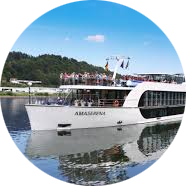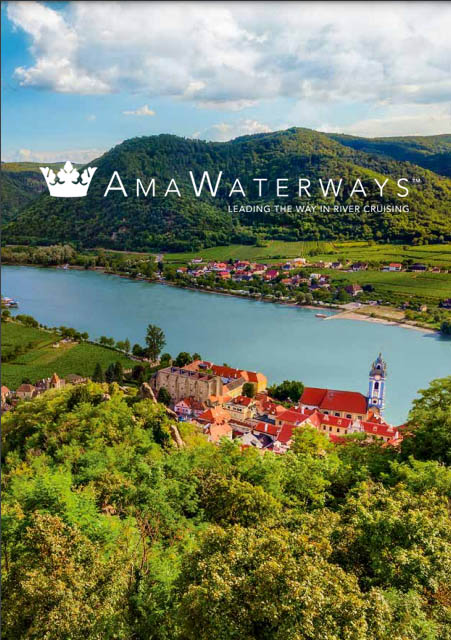 Get your FREE AmaWaterways 120+ Page Guide
Download Now
As a AmaWaterways River Cruise Specialist Agency, download our FREE ULTIMATE Guide to AmaWaterways. We are ready to create your perfect river cruise itinerary! Our over 120 page page guide to river cruising through Europe, Asia & Africa. The latest on ships, new destinations and itineraries. More information about their award winning fleet, RHINE CASTLES & SWISS ALPS, VINEYARDS OF THE RHINE & MOSELLE, ESSENCE OF BURGUNDY & PROVENCE, AFRICA SAFARIS & WILDLIFE CRUISE
---

Intimate, award-winning ships
With an average of just 156 guests, AMA's ships allow you to experience luxury unencumbered by crowds. With so much included in your river cruise package, simply choose your itinerary and we'll take care of the rest, ensuring peace of mind every step of the way.
Innovation and sustainability
Europe, Asia and Africa's peaceful waterways provide your pathway for journeys of a lifetime. No one can match AMA's signature twin-balcony concept. 20 of their European ships are honored with Green Awards.
An enticing menu of included excursions
You get to choose your experience! With small groups, guided shore excursions and a variety of choices, you can personalize every aspect of your experience with hiking and biking adventures, tastings and city tours, while choosing your own pace to explore.
Double your leisure time
The slower pace of river cruising allows for more free time. Take a dip in the sun-deck pool, relax with a soothing massage or watch the scenery glide by with a glass of wine in hand – moments to experience as you wish.
Enhance your best self
AMA's professionally trained Wellness Hosts lead the way with complimentary fitness classes and onshore experiences. Plus, enjoy healthy cuisine prepared with fresh seasonal ingredients.
Award-winning dining experiences
All fine dining on board, plus wine, beer and soft drinks with lunch and dinner, is included – even The Chef's Table specialty restaurant. Ama's membership in La Chaîne des Rôtisseurs means every meal is designed to impress.
Stay connected
Stay connected with high-quality complimentary Wi-Fi and the innovative myAmaCruise app, which includes all your electronic travel documents and more.
The heart of amawaterways: the people
Throughout your experience, you will get to know your waiters, bartenders and stateroom stewards personally as they greet you by name, remember your unique dietary preferences and treat you as esteemed members of their own family.
Personalize every step of your journey
No two travelers are alike – that's why AMA offers a variety of experiences that cater to your individual preferences. From specially-curated excursions to wellness activities to quiet sun-deck reading corners, there are so many unique ways to spend your day. Whether you are traveling solo, enjoying a girlfriend getaway or reuniting with family for a milestone celebration, there is truly something for everyone.

The Luxury of More...
- Public spaces - With fewer passengers on board, you can enjoy the luxury of space - the onboard public areas, like lounges and restaurants, are never overcrowded.


- Sun deck pool - Take a dip in the top deck refreshing pool with a swim-up bar as you pass by centuries old castles and other breathtaking scenery.


- Twin balconies - Enjoy stunning panoramic views along the river from your lavishly appointed twin-balcony stateroom, a French balcony and a full outside balcony.


- Specialty restaurant - The Chef's Table is an intimate dining experience that is included in the cruise fare. Watch the chef prepare a special menu for you and a few other guests.


- Bicycles on board - With a fleet of bicycles on board, you have the opportunity to explore Europe on guided bike tours, or go discover on your own.


- Main restaurant - Every day, Ama's expert chefs craft exquisite cuisine and pair it with included fine wines. AmaWaterways is a member of the prestigious Chaine des Rotisseurs culinary guild.


- Inspired by luxury yachts - You will notice the difference in design and decor the moment you are welcomed in the ship's beautiful lobby, complete with glass elevator.


- Massage services and hair salon - Treat yourself to a relaxing massage, or stop by to get your hair styled before a special night out.


- Fitness room - Looking to stay active during your cruise? Hit the treadmill or lift some weights as you cruise from one destination to the next.


---
USA Today's 10 Best Readers' Choice Awards 2022
AmaWaterways is thrilled to be nominated in USA Today's 10 Best Readers' Choice Awards in the following categories:

Best River Cruise Line
Best River Cruise Ship (AmaMagna, AmaSerena)
Frequently Asked Questions
Does AMAWaterways have a alcohol drink package you can buy?
52
I know that beer and wine are included with meals but I Just boarded the AMA Mora today and, when I asked about purchasing one, staff indicated it wasn't a thing that is usually offered except for groups that are booked. I haven't traveled AMA for a few years but know that Viking offers "silver spirits" all inclusive drinks.
1337
Alcoholic drinks are provided for free during meals - lunch, happy hour, dinner and any special events, like Sip & Sail. The drink prices outside of those times are very reasonable anyway, for example what you would buy at the bar on the ship. Keep in mind you are not really going to have as much free time cruising on these as ocean cruises, so a drink package is not really necessary. Honestly you don't need a drink package. And individual drink prices are actually quite reasonable. We left after a 7-night Rhine cruise with a $150 bill, and that's it!
Answer Link
You might come alone, but you won't sail alone. Upon boarding Ama's ships and highly-trained crew members will welcome you to your new home away from home. You'll meet your fellow travelers at the welcome reception and get to know them better during excursions or meal times. You can also enjoy the journeys through each small town on your own or in Ama's small group tours.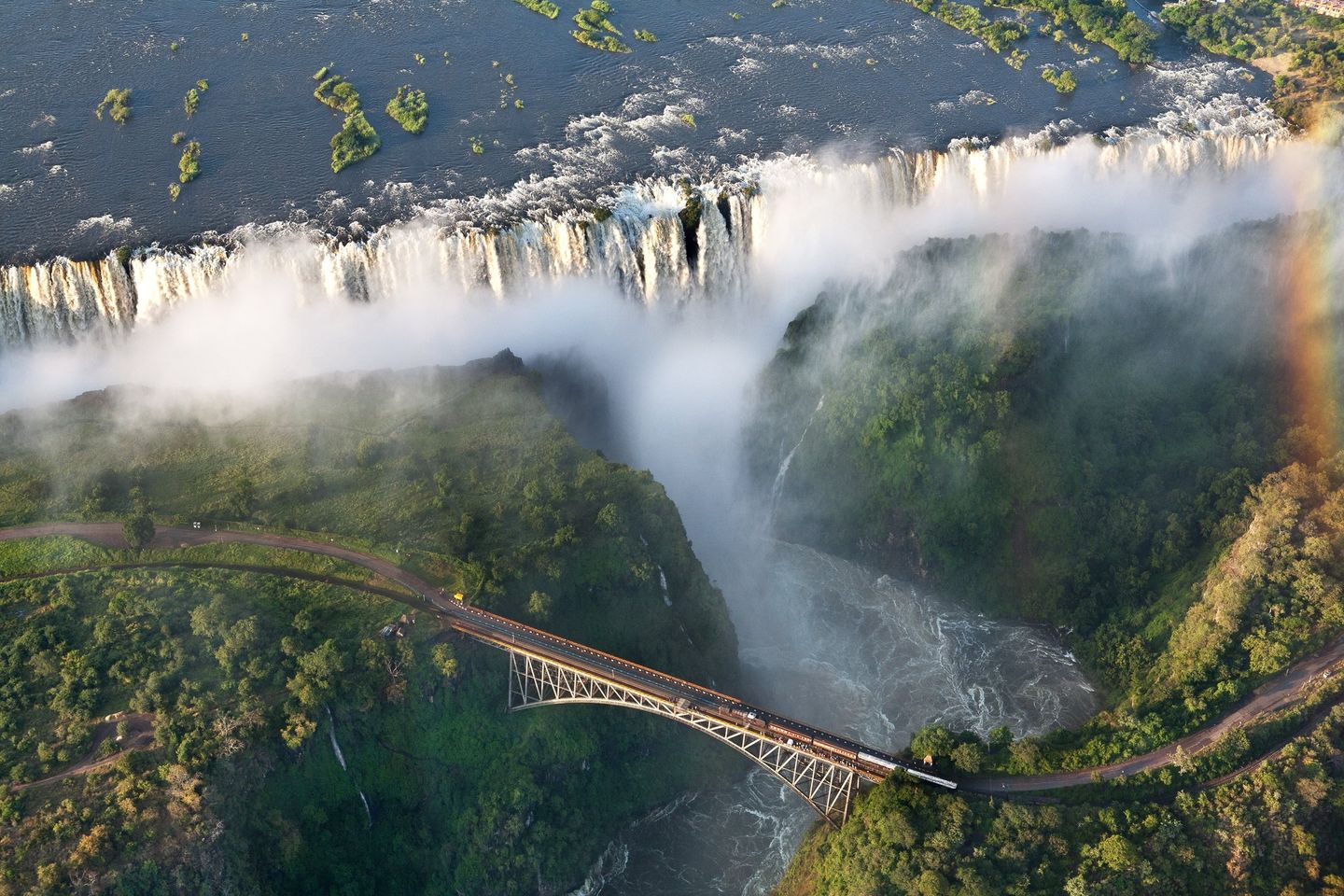 Why settle for imagining nature's beauty when you can enjoy it for yourself? Discover the largest waterfall in the world, Victoria Falls, along the Zambezi River. Recognized as one of the Seven Natural Wonders of the World, you'll experience it with us on Ama Africa Safaris & Wildlife Cruise!
---

Top 4 Christmas Markets for River Cruises
Here are the Top 4 Christmas Markets that will bring you Holiday Cheer!

1. Nuremberg Christmas Market - Nuremberg's festive Christmas Market is one of the largest in the world with over 100 canvas-topped booths selling toys, ornaments, gingerbread and more! Discover the Nuremberg Christmas Market on the Ama Iconic Christmas Markets itinerary.

2. Vienna's Schönbrunn Christmas Market - Visit the beautifully decorated Schöbrunn Palace and Chirstkindlmarkt, one of Vienna's most magical Christmas Markets on the Ama Christmas Markets on the Danube, Iconic Christmas Markets, Magical Christmas Markets itineraries.

3. Munich Christmas Market – Munich during the holidays is a must-see so be sure to ask your travel advisor how to add the Ama optional land package to your Christmas Markets on the Danube sailing.

4. Cologne Christmas Markets – Explore the Seven Christmas Markets of Cologne on our Christmas Markets on the Rhine sailing.
So many Christmas options from AmaWaterways!

Magna on the Danube - Christmas
Austria, Czech Republic, Germany, Hungary, Slovakia

Iconic Christmas Markets
Austria, Czech Republic, Germany, Hungary

Christmas Markets on the Danube
Austria, Germany, Hungary

Christmas Markets on the Rhine
France, Switzerland, Netherlands, Switzerland

Rhine Castles & Swiss Alps Christmas
France, Germany, Netherlands, Switzerland
---
AmaWaterways Reviews & FAQ
What are the most popular rivers for river cruising?
Danube and Rhine are the most popular rivers, and they are great for groups! But for the Danube and Rhine, stay away from September, the busiest month on the river and busiest time in Europe! Good options are available for spring into early summer - March, April, May. This is when shoulder pricing is available.

Are the prices for AmaWaterways more expensive than Viking, Avalon and others?
The price for AMA might be higher, but for good reason! Viking and Avalon - might include one walking tour a day, that's it! Anything else, you have to pay for. AMA includes castle tours, wine tastings, bike rides, etc. - All included in the pricing. Also, premium wines are not included on Viking and Avalon, but they are on AMA. We have heard this from several people, and one of our local guides mentioned that AmaWaterways usually gets the best parking spots / boat slips at each port. Some are right next to the heart of the cities and others require a short luxury bus ride. On our cruise we got the closest boat slots available, which allows you to enter the city with ease.

What is the Chef's Table Experience?
Watch as expert chefs chop, sear, drizzle and meticulously plate a multi-course tasting menu served with hand-selected regional and local wine.

Do all the ships have the Nordic walking sticks now?
Yes, all ships should have walking sticks, but quantity is limited.

We have a small group of people getting ready for a cruise. Do we need to book the shore excursions in advance or is it best to select them on the ship?
It's helpful for Ama to have a rough estimate of who is doing what ahead of time. They aren't locked into their selected excursions and are welcome to change their mind once onboard if there's room in another group. They usually put out colored tickets depending on excursions offered the morning of. AMA also is one of the only ones who offer "gentle walkers"' tours for those who can't quite keep up (pink tickets) the same tours but not as much walking.

Does AMA not have a drink package you can buy on board? I know that beer and wine are included with meals, free happy hours, and excursions, but I just boarded today and when I asked about purchasing one, staff indicated it wasn't a thing that is usually offered except for groups that are booked. I haven't traveled AMA for a few years but know that Viking offers a "silver spirits" all inclusive drinks.
Honestly you don't need a drink package. Between lunch, happy hour and dinner, and excursions, you don't need one. And drink prices are actually quite reasonable. No, You pay as you drink outside of meal times and the Sip and Sail cocktail. Honestly, we are big drinkers and did not spend much extra money on alcohol. On our first Ama cruise a few years ago, the only charge was a camera battery! Even postcards and stamps are free!

The largest AMA suite in the inventory can hold a max of 4 correct?
Yes, 4 people.

Are there golf cruises?
Yes, check out AmaMagna's Exclusive CONCIERGE GOLF PROGRAM

Can anyone under 18 do their own excursions?
No, technically. On Ama anyone under 18 has to be supervised by an adult they are traveling with at all times.

Is there any way to get Ama brochures, magazines, catalogs, or other printed items?
Yes, you can use their online order form.

What can you expect with AMA?
You will love every minute of it! AMA makes everything easy for guests, they think of everything to make guests comfortable and happy! AMA treats guests like royalty, and respectfully every time. Everything is done on an exceptional basis. Land trips are planned well to meet varying mobility needs, food is always delicious - featuring local flavors and other more friendly options are always available. They manage gluten and dairy free diets well. The staff is friendly and accommodating and hospitality is exceptional. Laundry service, especially for longer cruises, works out great. Rooms are comfortable, cleaned daily, and works out perfectly while you're out on excursions. Shower in the bathroom never lost pressure, the temperature was steady. Trust and safety were at the forefront. The captains are amazing, and really picked for their care and heart for the company and the guests. You have an opportunity to eat at the captains table and served beautiful courses. River cruises are really preferred over larger cruises as there are more opportunities to get to know other guests and it's more relaxing all around!

Can they handle all abilities, handicap accessibility and other options on the ship and excursions?
Ama has something for people of all abilities. They offer biking, hiking, walking, gentle land excursions, and more. Many guests never forget their trip managers, who stay close by, offer assistance when needed, and guide you through our land extensions and excursions!

Are there laundry facilities on board?
On the AmaMagna there is self-service laundry. On all of the other ships, you can send your laundry out for cleaning. Pricing is reasonable and we have found the service to be very quick! The laundry service is quick. Most often it is the same day!

Do the ships have clothes irons in the cabins or not? If not, what is the process to get something ironed?
This is just like an ocean cruise, if you need something pressed you can tell your room steward and they will take care of it for you!

What are the top 3 things to bring with you?
A cork screw and bottle stopper for any wine you might like to try. A portable battery charger and two-pronged adapter (to accommodate the European outlets on board) for your mobile phone, tablet and e-reader devices. Bubble wrap for packing cherished souvenirs and gifts, of which you'll find many!
---
Great European River Cruise Options for First Time Cruisers!
The Rhine and Danube are the most popular river cruising options.

The Rhine is a great option as the most classic river voyage and it's a popular first choice for those who are new to river cruising.

You will see castles along the Romantic or Middle Rhine (as the section between Koblenz and Rüdesheim, Germany is called), along with riverside wine-growing villages with halftimbered houses and some of Europe's loveliest cities along the way, among them Strasbourg, Heidelberg and Amsterdam.
The Danube - Nuremberg to Budapest

The classic Danube, is the stretch of river from Nuremberg or Vilshofen in Bavaria to Budapest. This takes in the UNESCO designated Wachau Valley with its picturesque riverside towns, as well as three capital cities: Vienna, Austria; Bratislava, Slovakia and Budapest, Hungary.
The Dutch Waterways

A springtime cruise along the waterways of the Netherlands and Belgium is the perfect way to see one of the world's most famous flower cultivation areas in glorious bloom. But the dazzling floral displays of the legendary Keukenhof Gardens are only one attraction, as you'll also explore medieval Bruges, Antwerp and Amsterdam, where cruises start and finish.
Germany's Main

Germany's most spectacular medieval cities lie along the Main's marshy banks and are the principal reasons to come here: Miltenberg is straight out of a Grimm's Fairy Tale, while Bamberg's wobbly half-timbered town hall perches on an island.

Bamberg is a gem of an old town, with crooked halftimbered buildings and ancient cobbled squares. Join a walking tour, but duck into a pub at the end to sample the local specialty, smoked beer. Many consider this an acquired taste, but when in Bamberg do as the locals do. Miltenberg is another medieval town and a good guide will give you all the lurid details of day-to-day life in the Middle Ages.
Germany's Moselle

The Moselle is one of Europe's most beautiful rivers and also one of the biggest surprises. It's not all that well known, and itineraries are more typically part of other routes, like the Rhine, but wow oh wow. It's amazing. Your ship will pass a patchwork of vineyards clinging to impossibly sheer-sided hills, interspersed with dense forest, while exquisite little towns sit along the banks, overlooked by towering castles. One cool thing: Cochem isn't just known for its wine — the town enjoys the unusual distinction of having the world's oldest mustard mill, now a museum, although still churning out the mustard, which you'll see in shops all over town.
France's Rhône

Why go? The Rhône flows through the loveliest areas of Southern France. In a week, a voyage visits Lyon, an elegant city famed for its culinary culture; Avignon, the setting of the iconic Popes' Palace; and Arles, the scenery which inspired Vincent van Gogh. Top tips: Lavender season is between June and early August. If you like cycling, there are flat trails with beautiful views along the Rhône, passing sleepy villages and water meadows. Take the steam train from Tournon; the forested limestone cliffs and gorges are magnificent and at the top, where the train turns around, locals sell the most delicious peaches and plums from little stalls.
Why should your clients sail the Best of Holland & Belgium itinerary with AmaWaterways?
---
AmaWaterways vs. Viking
For someone who has sailed both, we can tell you the main differences between Viking and Amawaterways. These are the main things that keep us coming back to Ama as opposed to other lines.

#1, look at the awards! Each year, AmaWaterways is the most awarded river cruise company in the world. Some of their recent awards:
River Cruise Line with the Highest Client Satisfaction.
Best New Ship (River Cruise) AmaMagna.
Best Onboard Dining (River Cruise)
Best River Cruise Line for Families.
River Cruise Line Providing the Best Travel Advisor Support.
There are so many details included with Ama that are not found with Viking. From the care of the staff, to the design of the ship, to the amount of time you get to spend with the ship captain that aren't to the same level with Viking.

Viking is more "entry level". Viking spends tons of money on marketing in the US. They have a good product - if you don't know about the next level up. The food on Viking was not to the same level as AMA. AMA is steps above with quality. Viking is less expensive, but their programs are not cheap, just not as good as AMA.

Viking has many more guests on the same size ship, so their cabins are smaller and it's more difficult for the staff to serve everyone.

Ama has more options for excursions. Bikes. Food quality is better. Fewer guests, sip and sail. Pool. Hot tub. Viking typically has larger boats and more people.

Ama has more options for excursions, and more included excursions in the price of the cruise. Pool and hot tub is a big selling point. Some ships have a swim up bar.

Ama offers a special chefs table dinner (once per person per cruise).

There is more alcohol included standard on Ama (including daily cocktail hours). The alcohol included is higher quality / top shelf compared to Viking.

For family friendly river cruises, who does Disney pick for Adventures by Disney? AmaWaterways! Disney likes to take care of their customers like no other company.
---
Cruises and Locations / Destinations
Click here to see all locations AmaWaterways services!

AmaWaterways offers the following exciting river cruise locations / destinations:

-Europe
-- Douro River - Portugal, Spain
-- Rhone, Seine, Saone, Dordogne & Garonne Rivers - France
-- Rhine, Moselle, Danube, Main
-Asia: Vietnam And Cambodia
-- Mekong
-Africa Safaris & Wildlife Cruises
-- Zambezi and Chobe Rivers - Zimbabwe, Botswana, Namibia
-Egypt
-- Nile

---
What is it like on a River Cruise?
As an example of what it looks like on a river cruise, take the 7-night Danube Serenade. This begins in Nuremberg, Germany, rich with World War II history and absolutely beautiful in the fall. On board, you'll feel the warmth of Ama's welcoming staff and crew as you admire festive harvest décor throughout the ship. And ashore, you'll savor traditional Bavarian specialties like fresh-baked pretzels and sausage, as well as Wachau Valley Rieslings. Plus, you'll hike to storied castles, and, my personal favorite, take guided biking excursions through cobbled city centers with architecture that spans the centuries. The cruise concludes in Vienna, where Ama's President & Co-owner Rudi Schreiner spent his childhood.

Millions of travelers flock to the mighty Danube River every year— but have you ever wondered why? Europe's second largest waterway connects Central and Eastern Europe, flowing over 1,700 miles through ten countries—that's more nations than any other river in the world. The Danube has had a front-row seat to some of Europe's most significant moments in history and is home to four glittering capitals: Vienna, Budapest, Bratislava and Belgrade.

The millions that live here take pride in the Danube's history and everlasting allure. And so, once a year, the countries of the Danube get together to participate in a multi-nation celebration of this magnificent river. Partygoers celebrate with such entertainment as cook-offs, live music, photo competitions, delicious food, horse riding and archery. These celebrations are always a fun, festive way to enjoy time with friends and family and feel connected to both local communities and those across borders.

The Danube has inspired artists (as well as gourmet lovers and oenophiles) throughout the centuries. Beethoven, Mozart and Gustav Klimt were all either born here or drawn to the region as famous for its culture as its mouthwatering Riesling wines and Sachertorte cakes.
---
What to Expect with Fall Cruises
Leaves of crimson, gold and fiery orange line Europe's rivers, showcasing spectacular autumn foliage. Though recently plucked clean from the fall harvest, sun-kissed vineyards beckon with new wines, just recently matured. Hear the crunch of leaves beneath your feet on storied paths to hilltop castles and savor the crispness of milder weather from your complimentary bike as the cool breeze playfully dances across your cheeks.

In addition to the beauty and romance of the season, fall brings with it reduced airfare and less crowds that make AmaWaterways' memorable itineraries even more enticing!
---
Why Wine Cruises?
Perhaps the most alluring of our autumn sailings are our Wine Cruises, which offer unforgettable epicurean adventures. Discover timeless winemaking traditions in villages that have been growing grapes for centuries. Among others, choose from Austria's UNESCO-designated Wachau Valley, France's celebrated Bordeaux region and the Douro Valley in Portugal and Spain—the oldest demarcated wine region in the world.

Descend to candlelit underground cellars and sip wines among the very casks in which they matured, pedal through vineyards and enjoy the wine tasting and pairing guidance of a dedicated Wine Host along the way.
---
Why Holiday Cruises?
The tantalizing aromas of gingerbread and roasted almonds will make your mouth water blocks from the dazzling light displays that characterize Europe's celebrated Christmas Markets. Wander through stall after stall brimming with colorful handicrafts. Wrap your hands around a warm mug of cocoa or spiced gluehwein as you revel in the magic and wonder of the holiday season. And on board, delight in the elegant décor, joyous Christmas carols and whimsical traditions of AmaWaterways' Christmas Markets cruises.

Among the stops during our Iconic Christmas Markets and Magical Christmas Markets Danube cruises are Nuremberg's Christkindlesmarkt, one of the largest and most famous in Europe, as well as Vienna's celebrated markets on the Ringstrasse and at the illuminated Rathaus.

And on the Christmas Markets on the Rhine cruise, you'll have a chance to try Kölsch beer and Reibekuchen potato pancakes at Cologne's enchanting Christmas Market, a Rüdesheimer coffee at Rüdesheim's intimate market, and sizzling crepes at Strasbourg's Christkindelsmärik.
---
Thanksgiving Cruises
Amid the warmth of harvest décor on board, you'll find a traditional Thanksgiving feast. In addition to our Founders' Cruises, there are a handful of appealing departures on the river for this festive holiday. Whether you and your relatives seek a more relaxing holiday this year, or you find yourself without local family, check our Cruise Finder for sailings taking place over November 22nd!