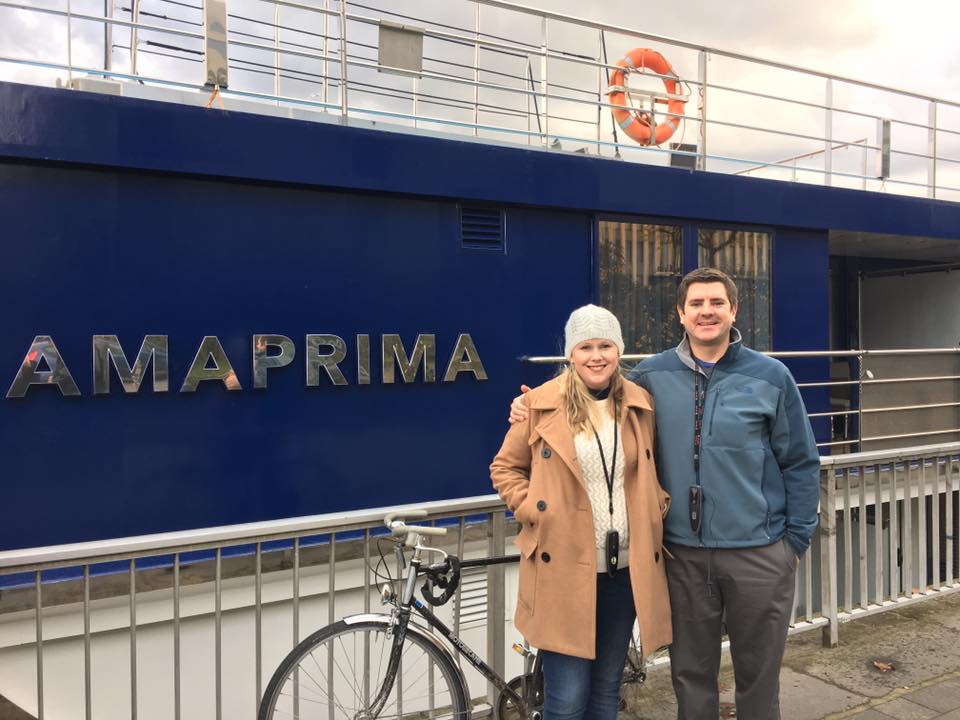 Owner, Lia Vincent, on a 7-night Rhine river cruise. Read more about our group travel for river cruises.
Interested in the best river cruises in Europe or an American cruise down the Mississippi? With specialized river cruise travel agents, we are your #1 travel agency for river cruises. There has never been a better time to book your bucket list river cruise! There are several itineraries to choose from, in addition to the ones we have listed, with several date options for each. Act now to secure your spot before it fills up!
River cruising is one of the most relaxing ways to explore the world. With smaller ships, you'll be able to dock in cities even when larger ships can't, and your destination is always in sight. It's a little slice of paradise!
Double Your Leisure Time - The slower pace of river cruising allows for more free time. Take a dip in the sun-deck pool, relax with a soothing massage or watch the scenery glide by with a glass of wine in hand – moments to experience as you wish.
---
Viking River Cruises 2022/2023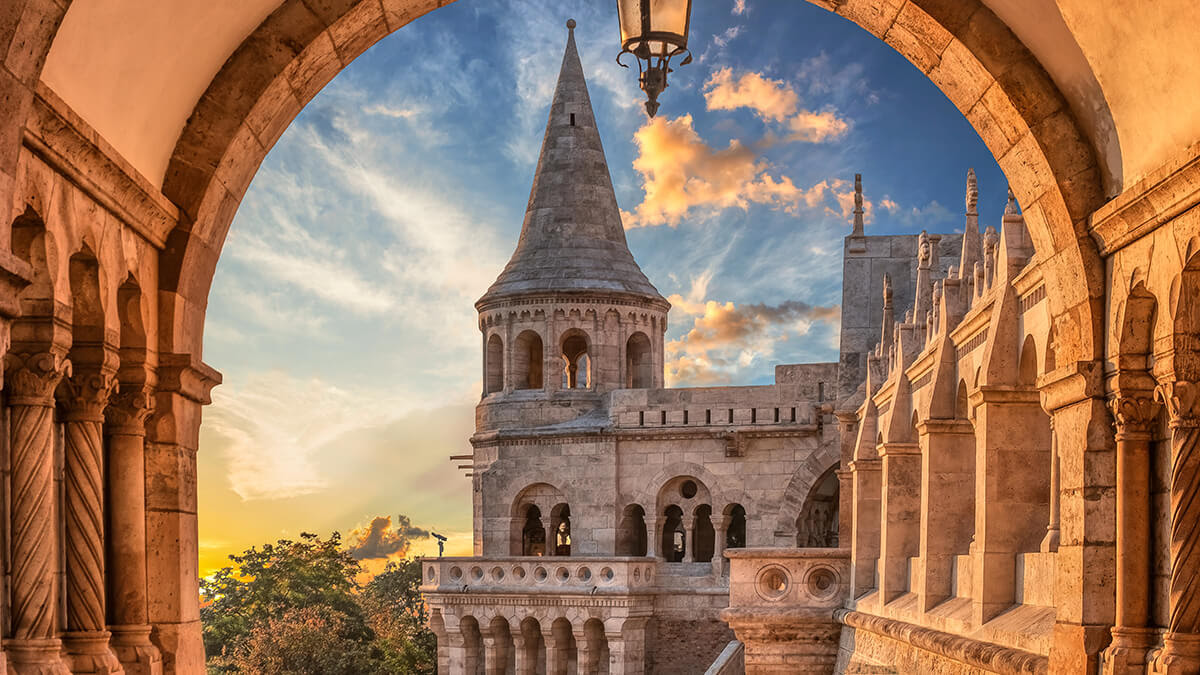 Since 1997, Viking River Cruise has been a great option, with lots of new services being added in 2022 and 2023. Serving USA, Europe, including France, The Danube, Italy, Christmas Markets, Germany and more! it operates a fleet of 76 river vessels and 6 ocean ships, offering cruises along the rivers and oceans of North and South America, the Caribbean, Europe, Russia, Egypt, China, and Southeast Asia.

Gain an Insider's View of Viking River Cruises in 2022 and 2023. ALL-INCLUSIVE VOYAGES WITH FREE AIRFARE - Only a $25 DEPOSIT, for Viking's 25th Anniversary River Sale. All-Inclusive options start from $2,199 per person.

Visit the most iconic cities and old-world villages, home to countless cultural treasures—both well-known and off the beaten path. From Germany's medieval castles to Austria's intimate coffeehouses, let Viking take you behind the scenes and reveal their historic—and modern—significance!
Learn More about Viking River Cruises
---
AMAWaterways River Cruises 2022/2023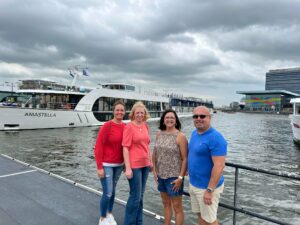 River cruise agent, Laura Brown, specializes in AmaWaterways. Check out her blog about her recent Holland and Belgium river cruise.
As a certified AMAWaterways travel agency, we can deliver the best AMAWaterways river cruises deals. You know AMA is a top quality river cruise company, as they are the exclusive host of Adventures by Disney tours. Disney only accepts the best quality and value for their tours.
Europe, Asia and Africa's peaceful waterways provide your pathway for journeys of a lifetime. Unpack once, sailing between grand capitals and charming villages as your intimate ship docks in the heart of destinations often unreachable by ocean liners. Enjoy convenient access without waiting in lines to disembark, so you can step right off and explore. River cruising is without a doubt the most relaxing way to travel, and when you sail with AmaWaterways, we won't just take you from here to there we'll sweep you off your feet.
Learn More about AMAWaterways
---
Mississippi River Cruises 2022/2023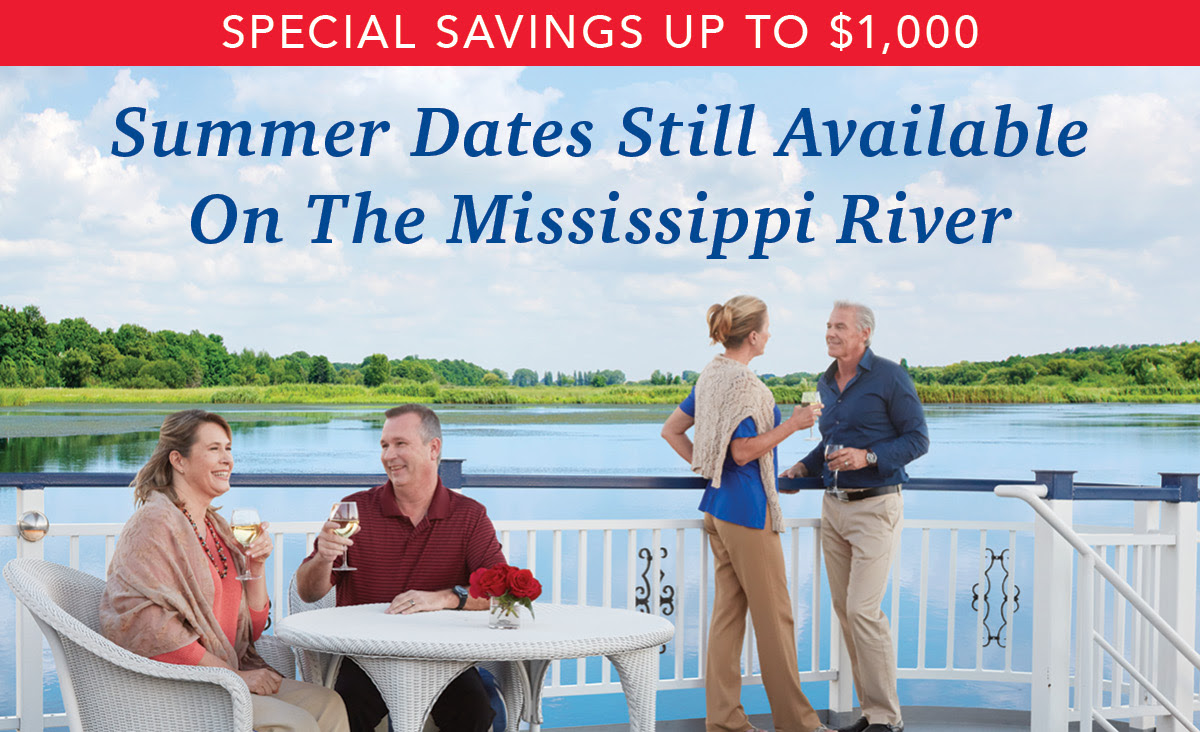 We specialize in Mississippi river cruises with Viking, American River Cruises, and other suppliers!

We have three incredible itineraries and small ship options to choose from. Plus for a limited time, we are offering $1,000 Savings on select June and July cruise dates.

Mississippi packages are offered for lower, upper and highlight iteneraries are available.
Learn More about Mississippi River Cruises
---
Uniworld River Cruises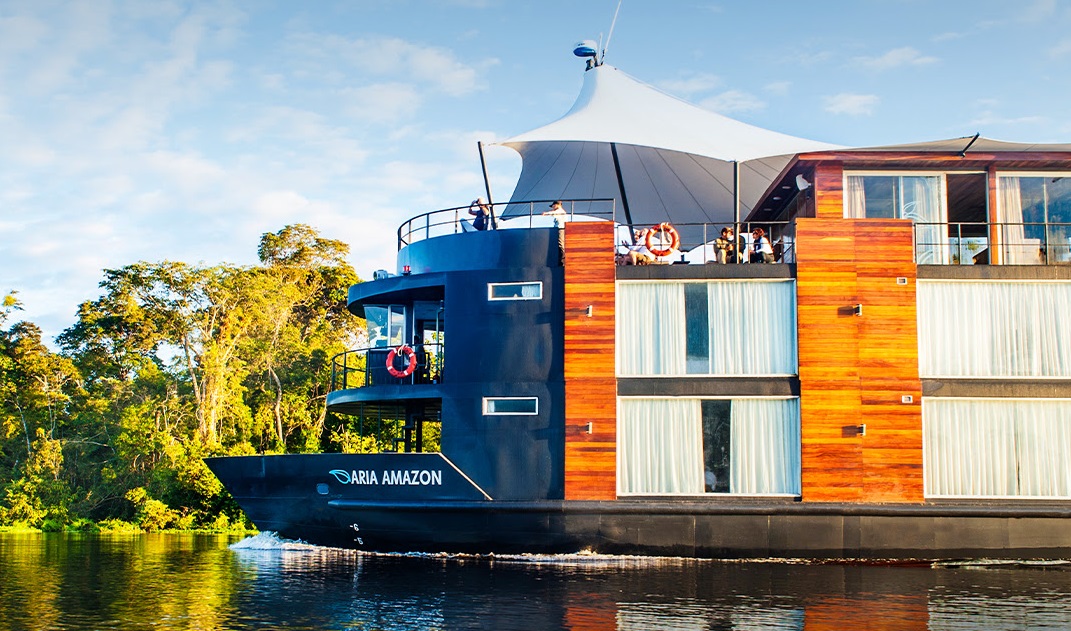 There are so many benefits of traveling with Uniworld Boutique River Cruises, including small ships with fewer guests, and high staff-to-guest ratio. The health and safety of everyone onboard has always been and continues to be their top priority.

The launch of the 2022 European cruising season started on March 13. See what's in store, and remember that there's still time for you to join us on our first cruises of 2023 and save for a limited-time with our current offers. Uniworld means Smaller Ships with Fewer Guests Your clients will find it natural to maintain a healthy distance on ships with an average capacity of just 120 passengers, which also means they get to enjoy an intimate onboard atmosphere and unmatched service from the most tenured crew in the industry. The Safest Way to Cruise Not only does Uniworld ensure the highest standards for health & safety, onboard and onshore, but our river cruises also benefit from constant proximity to land and shoreside resources. No Lines or Crowds Our guides can take you right past the long waits at major tourist attractions. Plus, no customs means embarkation and disembarkation take barely a moment. Uniquely Uniworld On Uniworld's boutique floating hotels, your clients will enjoy the best value in all-inclusive luxury, five-star cuisine sourced fresh from the destinations they visit, free-flowing fine wines and spirits, multiple options for included excursions and more.
Learn More about Uniworld River Cruises
---
American River Cruises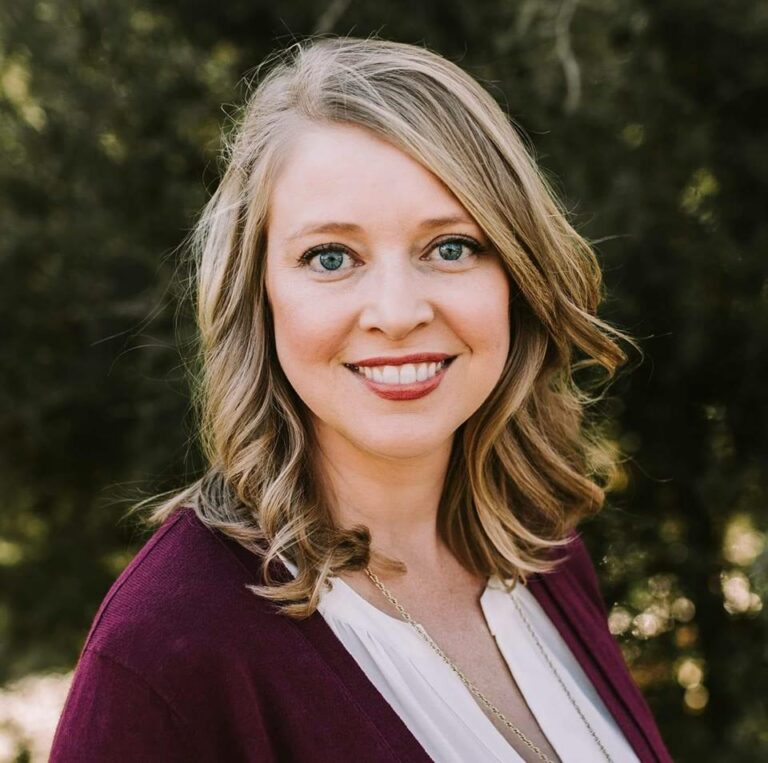 Read more about the American River Cruises experience from one of our travel agents, Jessica Riediger!
Experience The Nostalgia And Elegance Of The American Queen Steamboat Company
Small ship cruising done perfectly! Cruise the Mississippi River, New England, Pacific Northwest, Alaska, or the Southeast. Norfolk, Over 35 itineraries along America's historic rivers with American Cruise Lines. Reserve Now. Free Cruise Guide. Get Free Guide. Reserve Online. View Special Offers.
Popular locations include New England, Columbia River, Mississippi River, Alaska, Guilford, Baltimore, and more!

Cruise close to home! Simple Sophistication ONLY ON American's SMALL SHIPS. With American Cruise Lines, it's about Simple Sophistication. As we travel to the most amazing destinations across the United States, we offer our guests an elevated cruise experience – not expressed through black tie affairs and formal gatherings, but rather through personalized exploration, well-designed enrichment programs on board and ashore, and all the comforts that come with cruising on the newest fleet in the country. AMERICAN CRUISE LINES – SIMPLE SOPHISTICATION Realized.
Learn More about American River Cruises
---
River Cruises in Europe / European River Cruises 2022
We feature luxury river cruises in europe, group river cruises, family river cruises, christmas river cruises, 5-day river cruise iteneraries, all-inclusive cruises and more! Christmas market river cruises are a great way to see europe in the winter. Europe's most beautiful and historic rivers are the best way to experience all Europe has to offer in the comfort of your own river cruise ship.
---
Columbia River Cruises
3 day columbia river cruises and snake and columbia river cruises, american west steamboat company columbia river cruises.
---
Tauck River Cruises
The first to introduce European river cruising, Tauck is recognized among the "World's Best". They show you the sights differently with improved experiences over everyone else. Travel is not just about the places you visit – it's how you experience them that really matters. Along the rivers, Tauck does more than just point out the sights. They bring the locals aboard to share their stories, traditions and talents, then they invite you ashore to have a glass of wine or two with the vintners who made them... dine in private palaces with the nobles who live there... cook alongside chefs happy to share their regional recipes... attend command performances and concerts in opera houses and exclusive venues for Tauck guests only... and so many more opportunities to personally connect with the culture and people you meet in ways you couldn't do on your own. So read ahead, immerse yourself in the magic of Europe's waterways, learn about the rivers we navigate, read through our first timers guide and discover why a Tauck river cruise is right for you.
Learn More about Tauck River Cruises
---
River Cruises in the US
Save up to 50% on 2022 & 2023 cruises on the Mississippi River or Columbia River. River cruises in the Great Lakes to Atlantic Ocean. Small ship river cruises in the USA.
---
Avalon River Cruises
Delivering unparalleled experiences and boundless exploration, Avalon puts you in the captain's seat to navigate your journey, fuel your passions and steer you on the right course! Europe River Cruises, special Interest The Danube River - Main Rivers - ... Danube River Cruises Danube river cruise ships wander through scenic old-country ... River Cruising Avalon puts the "you" in "unique" with special interest themed ... Deals A Taste of the Danube (Westbound) · Avalon Deluxe Stateroom.
Learn More about Avalon Waterways
---
Hudson River Cruises
Navigate wild barrier islands to discover tranquil forests, beaches, and marshes. Explore the wild islands, rich history, and picturesque cities of the Eastern