3 Things You Need to Know About the "Love is Blind" Featured Resort, TRS Coral
Want the latest travel news, deals and more? Sign-up for my newsletter!
---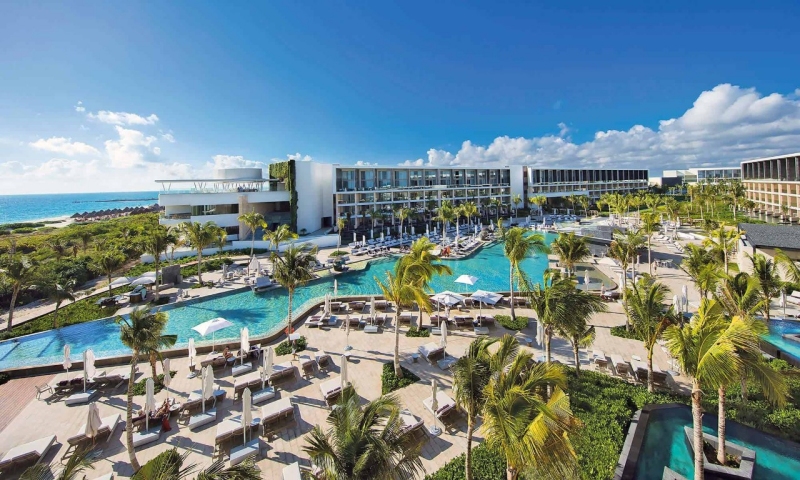 3 Things You Need to Know About the "Love is Blind" Featured Resort, TRS Coral
Season 2 of the Netflix dating show 'Love Is Blind'
featured an all-new selection of desperate singles who are tired of the cheesy pickup lines and unsolicited d*** pics that accompany dating apps and are on a
real mission to find love for the 'right reasons'
… Sounds cliché and honestly right up the alley of many hopeless romantics across the United States.
Netflix recently wrapped on the airing of a unique style dating show where 30 singles have signed up to participate in a social experiment where the single men and women look for love and get engaged, without ever seeing each other face-to-face, as emotional connection attempts to conquer physical attraction.
(personally, it sounds fun until you open the pod and feel catfished by someone, but who am I to judge?)
Although the popular series was primarily filmed in Chicago, IL, that wasn't the ONLY filming location for the out of the norm love-based reality show… after blindly falling in love (quite literally, they haven't once seen their partner), the young couples leave their respective pods and are whisked away to spend quality time face to face at a
luxury Mexico resort; TRS Coral.
Located in Costa Mujeres's, an up-and-coming luxury vacation destination, the intimate adults-only resort made for the perfect setting for season two of 'Love is Blind.'
Here are 3 things you need to know about the 'Love is Blind' featured resort, TRS Coral.
1) This Resort is Adults-Only AND All-Inclusive.
What more could one ask for when looking to escape the hustle and bustle of real life? Experience an adults-only bliss at TRS Coral. Coupled with an unlimited amount of food and beverages(top shelf alcohol included) and a world-class spa, it truly is is a heavenly Caribbean hideaway.
2) The Resort Compound Itself is Considerably Larger Than it Seems.
From the looks, it seems to be a smaller boutique resort… but looks can be deceiving as the compound is made up of 2 resorts; Grand Palladium (family-friendly) and TRS Coral (adults only).
Although the two worlds rarely cross paths, TRS Coral guests get full access to the features at the sister resorts. Guests have unlimited access to ALL amenities offered by Grand Palladium; bars, spa, and restaurants right at your fingertips!
3) Many Suites Really do Come with Butlers!
Book into the correct room category and there will be no need to lift a finger throughout your stay. Personalized butler services allow you and your partner to really immerse yourself in each other. Your very own butler will assist with all special requests, reservations for both the spa and dining, as well as the COVID-19 testing arrangements and check-in/check-out services. Talk about luxury living.
TRS Coral has a look and feel of a luxury 5-star resort that would be out of the price point for most, but you would be surprised.. the average nightly price is $202 pp, placing it in the perfect price range for an all-inclusive escape that won't break the bank.
Nonetheless, TRS Coral seems to be the perfect resort to explore your love… or soothe the pain if things don't work out.
Would you like to treat your honey to a 'Love is Blind' luxury bonding experience in real life?
Contact Vincent Vacations to plan!
---